QUIETLY EXCLUSIVE HETTIE IS AN AWARD WINNING LUXURY FAMILY LIFESTYLE BRAND
A luxury British brand, handcrafted in England uniting fashion-forward British design with traditional hand-craftsmanship.
Born and manufactured in the UK Hettie combines beautiful design, with family conscious values and ethical responsibility... resulting in a stunning collection of Made in England family lifestyle accessories.

Hettie is home to a range of handmade British accessories from unique dog collars and harnesses to luxury wool totes and ladies shoulder bags. Each piece within the collection has been designed to be treasured and has been made with pure passion and care in England.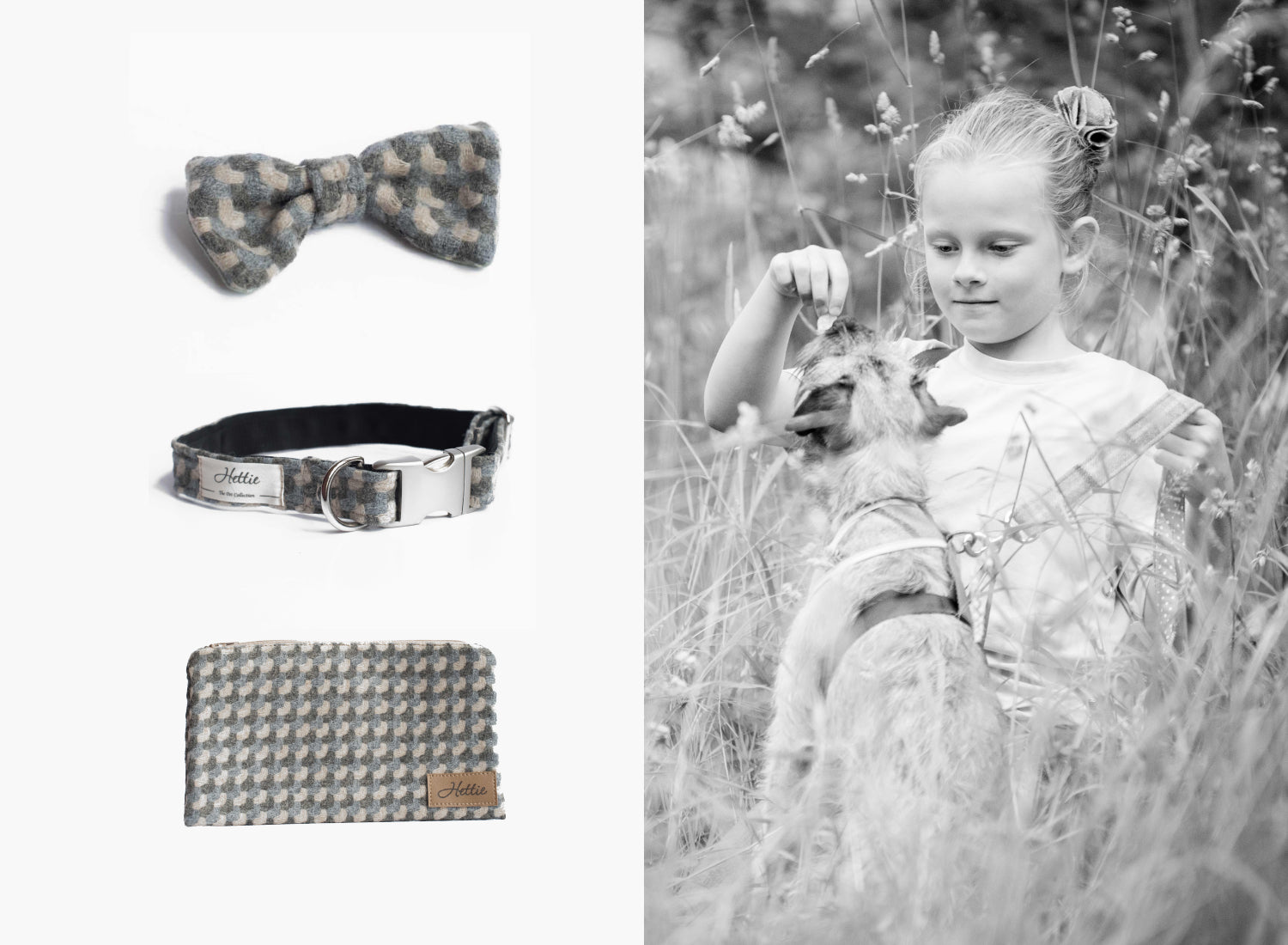 Whether you are looking for stand-alone accessories or you and your pet and family are looking for complimentary looks, Hettie offers a unique range to cater for the two-legged and four-legged, fashionable elite.


As the brand's ethos is to step away from fast fashion, concentrating on quality over quantity, the collections are only run in small batches ensuring authenticity and unique value to each piece.
Due to this, lines often sell out quickly and, in many cases are not repeated.
There are a plethora of brands focusing purely on overseas manufacture, Hettie is rebelling back against this mentality. Hettie chose to work with British manufacturers to not only provide superior products to their customers but to support and protect the countries manufacturing history.
The brand understands the importance of quality craftsmanship and respects the art and value of each accessory that leaves their studio. The brand continues to invest in British manufacturing so they can oversee the full process from design to production and product quality.
The exclusivity of designs and the rapid popularity of their products means lines sell out quickly. The best way to ensure you stay ahead of their launches is to subscribe to their mailing list.
Hettie
from our family to yours
The Heritage materials and quality craftsmanship used in the products are evident and resonates with customers.
Hound and Hare USA
HUGE fans of the coat! Amelia finds it really comfy to wear and it doesn't slide to the side or anything ! It's perfect
Join the Hettie family today
Be the first to hear about our exclusive offers , news and collections
HETTIE IS COMMITTED TO CREATING PRODUCTS THAT STAND THE TEST OF TIME.
The planet and the country can't withstand the current manufacturing model. By offering a new solution to the current waste coming out of the industry, Hettie is doing what they can to ensure the products they create, stand the test of time and become a valued possession to their customer, not just another throwaway purchase.
WE VALUE BRITISH MANUFACTURE
Hettie has recently released a new collection of children's handbags and accessories to match the current lifestyle collection. The collection is inspired by the bond not only between mother and daughter but grandmother and granddaughter. Sian's own granddaughter was involved in the production process of this new collection and has given her own seal of approval to the new range .
The inspiration behind the collection is to create timeless pieces that will be treasured for a lifetime and passed down from generation to generation. Hettie is actively campaigning against fast fashion and campaigning for a cleaner industry that focuses on traditional craft and quality.
Hettie is a family brand, with family values at heart. Sian's collections are born from the love and compassion she has for her own family, from grandchildren to her own four-legged fur babies.
The collection has a real English charm about it and her products bring not only joy to her customers but a feel-good factor too. Whether a gift for a loved one or a treat for one's self, there is something for everyone within this classic, everlasting collection.